President Muhammadu Buhari on Sunday met with the governors and leaders of the All Progressives Congress (APC) in London.
Okorocha, who is also the chairman of the APC Governors' Forum, added that the party delegation spent more than an hour with President Buhari over lunch.
He said the President was delighted to receive the delegation and asked each governor about affairs in his state. He also asked the Minister of Transportation, Rotimi Amaechi, about the state of the railways.
The governor stated that it was very clear from the discussions that President Buhari followed developments at home very closely.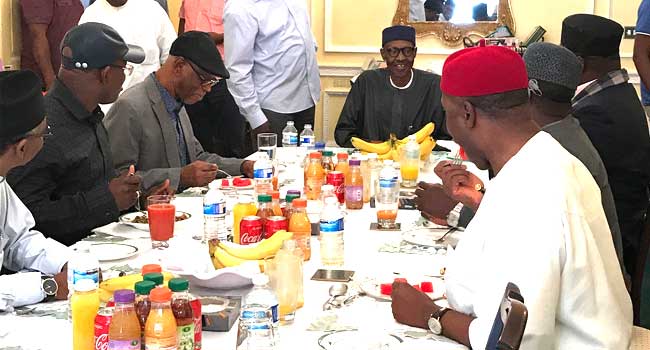 Reacting to the negative things being said about him, Governor Okorocha said President Buhari "just laughed", describing such reports as lies and sent his best wishes to Nigerians.
The governor further asked Nigerians to remain calm and that the President would be back as soon as the doctors give him the green light.
"By our visit to London today (Sunday), the merchants of lies have been put out of business and Nigerians will not buy the garbage they have been selling. All those who look up to fake news can find a better use for their time," Okorocha said in a telephone conversation.
State governors at the meeting include Tanko Al-Makura (Nasarawa), Nasir El-Rufai (Kaduna), and Yahaya Bello (Kogi); as well as the APC National Chairman, John Oyegun among other leaders of the party.
The meeting is coming more than six weeks after the wife of the President, Mrs Aisha Buhari, said that the President was recuperating fast.
President Buhari had travelled to the United Kingdom for medical attention for the second time this year on May 7.
Mrs Buhari, who returned to Nigeria from London with the news on June 6, had conveyed the President's appreciation to Nigerians for their prayers, and Acting President Yemi Osinbajo for his loyalty.
She said the President urged Nigerians to continue to be strong in the face of challenges and to support the Federal Government in implementing the agenda for which they were elected.
Nine days later, on June 15, the Minister of Information and Culture, Mr Lai Mohammed, had described Mrs Buhari's comments about the President's health as "the most authentic news" available at the time.
Professor Osinbajo had also said that President Buhari was in high spirits and recuperating fast, after travelling to meet with the President on July 11.
He had stated that the President would be back soon, although he gave no specific timeline regarding his return.
Professor Osinbajo told State House correspondents that his visit to the President was simply to check on his general welfare and brief him on the developments back home.
He had, however, declined to go into details about the hour-long conversation with the President.